Variety of Kitchen & Bathroom Countertop Products in San Diego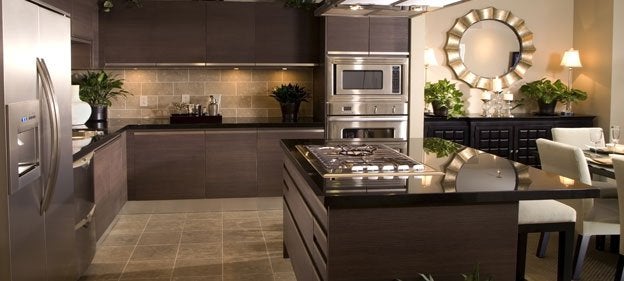 The Countertop Company Features an Array of Products
For a vast assortment of kitchen and bathroom countertop products in Escondido, CA, consult with the experts at The Countertop Company. We have spent more than 20 years serving customers in Southern California, providing customized installation and professional repairs of kitchen and bathroom countertops. Our team can help you remodel some of your home's most important rooms with stunning features that are sure to impress when you entertain guests. With extensive experience in the countertop industry, we can help you visualize what may look best in your home. We have bathroom and kitchen countertop materials to match any aesthetic or style. Let us know when you are ready to start your next home renovation project. We will happily answer any questions you have about our products, services, and design tools. Call us today to get started.
Products We Offer for Your Home's Countertops
Our collection of countertop products is sure to have something that suits everyone's fancy. We take pride in offering a wide variety of kitchen and bathroom countertop choices for homeowners in San Diego, CA, and the surrounding area. Our products include:
Butcher Block
Butcher block countertops are perfect for aspiring chefs and anyone who derives pleasure from preparing a feast in the kitchen. The Countertop Company can fashion butcher block kitchen countertops out of several different types of wood species to match your home's look or color scheme. Among the wood species we offer are Walnut, Brazilian Cherry, American Cherry, Hard Maple, Hickory, Iroko, Zebrawood, and Weathered White Oak. Upon determining which will look best in your kitchen, we will help you choose a finish, construction style, and edge. We are happy to discuss whether you have selected a butcher block countertop for its appearance or utility so that we can deliver the finest results.
Acrylic
Solid surface, or acrylic, products comprise countertops made of granite, quartz, marble, and stainless steel. They are durable, non-porous, and stain- and chemical-resistant. Simple cleaning techniques can restore such materials to their initial shine even after the appearance of any cuts or scrapes. We can integrate sinks and other counter materials fluidly for this low-maintenance option. The Countertop Company features manufactured acrylic countertops from:
Corian
Hanex
LG Hi-Macs
Livingstone
Staron
Natural Stone
We provide natural stone countertops throughout Southern California for those who want options that do not include any resin or chemicals. The natural stones we can turn into elegant countertops for your kitchen or bathroom include granite, soapstone, and marble. We offer these types of countertops in 2cm or 3cm thickness and many different colors and finishes. Additionally, we can help you choose the proper style for your home and complete any installation project with our professional sealing efforts to help protect your investment.
Quartz
Otherwise known as engineered stone, quartz countertops are beautiful elements of a complete, lavish kitchen. They are much more durable and easier to maintain than granite countertops. And as an added benefit, quartz countertops come in a wide range of colors to match your kitchen or bathroom's present décor. The Countertop Company is pleased to lend our expertise to you as you select the quartz countertop of your dreams for your San Diego-area home. Our options include:
Silestone
MSI
Cambria Quartz
Caesarstone
Hanstone
LG Viatera
Pental Quartz
Samsung Radianz
Titan Quartz
Zodiaq
Soapstone
At The Countertop Company, we use Grade A soapstone for our countertop options. Grade A represents the category of soapstone considered to be the hardest and best quality. Soapstone is an ideal kitchen countertop material because it is the only non-porous natural stone. Therefore, you can place raw foods on your countertop without fear of bacteria growth. It is also environmentally-friendly and completely recyclable. Comprising several different types of rock, soapstone is smooth to the touch and heat-resistant.
Dekton
Another one of the products we offer at The Countertop Company is Dekton by Cosentino®, a sophisticated mixture of raw materials used to produce glass, new porcelain tiles, and quartz surfaces.  Dekton kitchen countertops are long-term solutions for homeowners who seek a surface that is highly-scratch-resistant, alluring, and resistant to heat, stains, and freezing. This innovative material can also be used for bathroom countertops, outdoor worktops, flooring, and outdoor walls, among other home features.
Recycled Materials
For our environmentally-friendly consumers, we also offer countertops comprised entirely of recycled products. Materials that are used to create such options include glass, paper, and mirror. Though they may seem too good to be true, kitchen and bathroom countertops made of recycled products are similar in strength, thermal resistance, scratch resistance, and durability to granite. However, we recommend applying a sealant to prevent staining issues and further protect your home additions. We can gladly handle the installation and protective sealing for you. Countertops incorporating recycled materials include:
ECO by Consentino®
IceStone
Vetrazzo
GEOS Recycled Glass Surfaces
Ventian Lime Plastar for Shower Walls / Backsplash / Other areas of the home.
The application of natural lime-based plasters inside showers can easily transform an ordinary bathroom into a high-end, luxurious environment.  We can plaster over existing tiles.
Countertop Remnants
The Countertop Company is proud to customize countertops for homeowners in Southern California. We make sure that your countertop meets the exact specifications and dimensions of your kitchen or bathroom. But, as a result, we always have countertop remnants following a project. These affordable, beautiful products can provide depth, clarity, and durability to your home. They are ideal for smaller projects around the house, and we have hundreds from which to choose at any given time. Visit our showroom to learn more about countertop remnants comprising:
Quartz
Granite
Butcher block
Acrylic
Visit The Countertop Company's Showroom to See Our Options
With so many beautiful kitchen and bathroom countertops from which to choose, The Countertop Company is San Diego's leader in the industry. We will help you determine which material is best for you, accounting for appearance, durability, and utility. Our experts have extensive experience and are happy to help you find the countertops of your dreams. Visit our showroom in Escondido, CA to see all of the choices we have to offer. Once you find the perfect option for you, we are happy to arrange a custom installation at your home in Southern California. Contact us today to learn more.