Products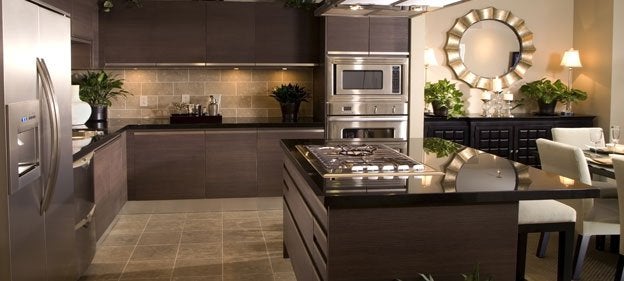 Countertops in San Diego, CA
We work with: Natural Stone , Engineered Stone , Acrylic, Recycled Products , Soapstone, Butcherblock. To learn more about our products, click on the links below:
Natural stones are from the Earth and are not mixed with any type of resin or chemicals. Most of these need to be sealed because they are naturally porous materials. Fissures also occur naturally in many stone types, which can cause them to be easily chipped, cracked and scratched. Some natural stones such as marble or soapstone are softer than other materials and can be easily etched or scratched. All natural stone materials are available in 2 cm and 3 cm thickness.
A product that is man-made, but created with 93% quartz stone and 7% resin. Engineered quartz is more than twice as strong as granite and is maintenance free. It is also heat resistant, stain resistant, non-porous, and mold and mildew resistant. It has an even pattern and more color options than natural stone. Natural quartz is found in great abundance in the Earth- it is second only to water as the most common mineral-based form on our planet. It is naturally hard and scratch resistant. Only diamonds, topaz, and sapphire are harder than quartz. The raw quartz crystals used to create quartz countertops range in size from coarse grains to the size of rock salt. Once they are selected and ground, the crystals are combined with bonding agents and color, then heated and vibrated to form an impenetrable surface. The resulting slabs are quartz matrix that will not develop fissures or cracks and does not require sealant. This creates a beautiful and maintenance free countertop.
Every chef wants butcher block counter tops in their kitchen. You will never have to use a cutting board again! Butcher block adds warmth and timeless beauty to your kitchen. It can easily blend well with any design taste; from traditional to vintage to rustic to contemporary. Butcher block countertops are made out of thick strips of hardwood glued together to form one solid piece.
Soapstone is widely used and is a well-known material for people living on the east coast. Many homes there have soapstone countertops that have been in their kitchen for over 100 years! Here on the west coast, many people don't know much about soapstone and how great of a product it is, but most of us have seen it in our High School science class. Remember the black countertop the Bunsen burners sat on? Soapstone is a metamorphic rock that consists of talc, steatite, magnesite, quartz, and other magnesium rich minerals and it is quarried like granite and marble.
We are happy to announce custom art inlays exclusively available through us. You can choose from our ready-made stock, or custom design your own. Call Zane at (850) 462-2781 to schedule an appointment today.