Design Your Dream Kitchen & Bathroom for Your San Diego Home
The Countertop Company Offers Convenient Online Design Tools
The Countertop Company is committed to helping homeowners in Escondido, CA realize the bathroom and kitchen countertops they have always wanted. We have more than two decades' worth of experience installing and repairing kitchen and bathroom countertops in Southern California, so we can typically visualize how they might appear in your home and provide suggestions. But we recognize that such expertise usually only comes with experience. Settling on countertops, accents, and flooring can be overwhelming and filled with anxiety. You want to make sure that you will love your renovations before making such a significant time and financial investment. Therefore, The Countertop Company is proud to offer several convenient online design tools to help remove all apprehensions. Toggle between different styles and colors until you find the combination that matches your style. Get started today.
Take Advantage of Our Comprehensive Design Tools
We have design tools to help you visualize all of the home renovation projects you can conceive. Our top priority is providing a remodel that looks great and of which you can be proud. You would not buy clothes without seeing how they look at you first. Do not select a bathroom or kitchen countertop blindly, either. Take advantage of our comprehensive design tools to ensure you can achieve the look you desire. Our interactive tools include:
Kitchen Visualizer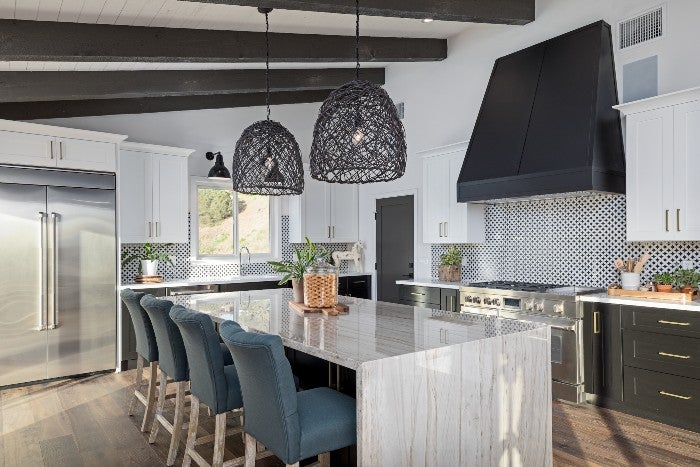 Among the best ways to truly reveal how your luxurious new kitchen will look with extravagant countertops is with The Countertop Company's virtual kitchen visualizer. This useful tool allows you to select from our vast assortment of natural stone and quartz countertops to see how each will look with various backsplashes, cabinet colors, and flooring styles. Feel free to play around with the kitchen designer. You may know what you want and simply want confirmation that it will appear in practice as it does in your mind. But pairing different countertops and colors may help you see something you otherwise would not have.
Bathroom Visualizer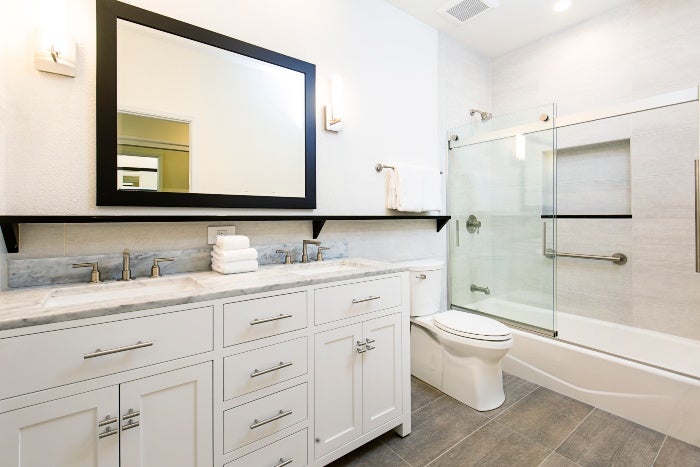 Similar in utility to its counterpart for the kitchen, our bathroom visualizer helps you envision a bathroom complete with your choice of countertop, backsplash, and tiling. Mix and match different colors and styles to achieve the bathroom of your dreams. Our team is highly-skilled with custom bathroom countertop installation as well as various other elements of renovations. Cycle through our many options – with more colors added every week – before deciding upon your ideal bathroom.
Edge Visualizer
Homeowners in Escondido, CA and the surrounding area can preview our most popular countertop edges using our virtual edge visualizer. Our display island will help you understand how the edge profile of your countertop will look. You can even combine your desired profile with various stone selections for increased accuracy. Compare bevel, eased, bullnose, or any of an array of other edge profiles online.
Material Selector
The material selector is one of The Countertop Company's most thorough online design tools. You can peruse an abundance of countertop, flooring, backsplash, sink, and hardscape options. You can even play around with our filters to find an option that meets your color, size, and finish desires. This tool helps bring the showroom and warehouse to you.
Granite Countertops
Before visiting our showroom in Escondido, CA, review our selection of granite countertops, with more than 250 color patterns. This awareness will help you narrow your scope and find the perfect slab or countertop for your Southern California home. Every granite countertop slab shown online is in stock and ready for prompt delivery. Choose from the whole collection or narrow your search based on color, finish, country of origin, and size.
Quartz Countertops
If you know that you would prefer a quartz countertop, you may also explore the many varieties on our website. With styles that include the appearance of marble or concrete as well as nature-inspired looks, The Countertop Company has a wide range of quartz countertop options for your kitchen or bathroom. Conveniently sort and filter our choices until you find the one for you.
Wood Look Tile Collection
While we specialize in countertops, it is not all that we do. We can help accent your kitchen or bathroom with our wood look tile collection. Whether you desire a smoky look, a light amber appearance, or vibrant platinum aesthetic, you are sure to find it among our options.
Floor Pattern
The Countertop Company has a plethora of options for tile flooring in the San Diego area. Use our tile pattern tool to virtually create one-tile, two-tile, or multi-tile projects that incorporate the floor pattern you want. This design tool even includes a tile calculator to help you choose the tile size that best suits your needs and eliminates as much waste or leftover products as possible. Feel free to be creative so that you find the style that you like best.
Use The Countertop Company's Online Design Tools Today
Once a renovation project is underway, it is often challenging to change things on the fly. Because of this, The Countertop Company wants to ensure you understand the scope of your home renovation project and how the end result will appear. Therefore, we have created several online design tools for your benefit. You can design your entire kitchen or bathroom with a few clicks of your mouse and an open mind. Once you have a plan, visit our showroom in Escondido, CA to set it in motion. We will help with all of the logistics and installation efforts. You can then begin planning your next house party to show off your beautiful countertops and home accents. Contact us today to learn more.