Tile Services in San Diego, CA
Professional Tile Services for San Diego Homes
Bring your space to life with a sleek tile installation. From floors to backsplashes, The Countertop Company offers a variety of high-end tiling solutions to add vibrancy and detail to your kitchen or bathroom. Choose from a range of colors, styles, and sizes for your tiling project, and our experts will install your selection with precision and accuracy.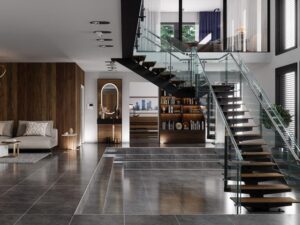 Satisfying Modern To Traditional Tile Preferences
Our exceptional tile design is a versatile and luxurious way to add style and elegance to any space. Whether you're looking to create a bold statement in your bathroom, a cozy and inviting atmosphere in your kitchen, or a sleek and sophisticated look in your living room, we have a tile design to satisfy your needs.
Our High-quality Design Options
From sleek and contemporary glass tiles to rich and warm natural stones, we are equipped with an endless array of colors, patterns, and textures to choose from, so you can create a personalized look that will bring aesthetic value for years to come.
How To Choose the Best Tile for Your Home
With so many tile options, it can be challenging to decide on a style. Fortunately, our professionals are here to help. Together we will consider the function of the space, the overall aesthetic goals, and the durability of the materials you are interested in. Additionally, we will ensure that the choices we suggest fit your budget, so you aren't left having to compromise.
 Our Seamless Installation Process
Once you have chosen your tile design and we have assessed the area of your tile installation, our experts at The Countertop Company will provide seamless tile installation services that will leave your home looking beautiful and updated.
Our team is skilled in providing tile installation services that are efficient and respectful of your space. We understand that having work done in your home can be disruptive, so we take great care to minimize any disruption and leave your home as tidy as we found it.
Permanent Tile Sealing
Investing in new flooring is a significant decision, and one that you will want to safeguard for as long as possible. That's why our experts highly recommend pursuing permanent tile sealing as part of your tile installation process.
Permanent tile sealing will protect your new tiles and preserve the longevity of your flooring, making them resistant to staining, scratches, and other forms of damage. With our state-of-the-art sealing technology, you can enjoy peace of mind knowing your tiles are protected for years to come.
Southern California Homeowners Trust the Countertop Company
For over 20 years, The Countertop Company has been helping San Diego homeowners bring their home visions to life with exceptional craftsmanship, installation, and friendly customer service you can't find anywhere else! Our specialists have a keen eye for detail and style and know how to seamlessly tie your home renovation projects together.
Let's Discuss Your New Tile Design Solutions
If you're in the market for unrivaled tile design solutions, you can rely on The Countertop Company for the expertise and installation you need! Our detail-oriented staff has the knowledge and tools to take your home to the next level with high-quality tiling. Contact us today to schedule an appointment with one of our specialists!