Cambria Quartz Countertops in San Diego, CA
Why We Recommend Cambria Quartz Countertops
When determining the right countertops for your home, you may be overwhelmed by the array of choices on the market. While granite and marble may be beautiful, their heavy price tags and maintenance demands are significant drawbacks. Fortunately, The Countertop Company is here to offer you a solution that offers the elegance of natural materials without the downfalls with our Cambria Quartz countertops in San Diego, CA.
The Cambria Quartz Difference
Cambria Quartz is a luxurious, synthe-tic brand of quartz, American-made countertop material made and owned by a brand in Minnesota. Cambria Quartz is comprised of 7% binder and pigment and 93% crushed quartz for a premium, seal-less, scratch, and stain-resistant-finish. Additionally, Cambria quartz countertops are a high-end product with a lifetime warranty covering manufacturing faults.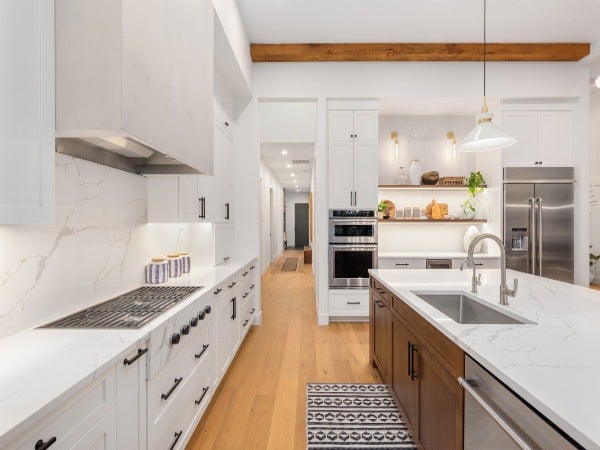 How Cambria Quartz is Made and Manufactured
Once pure white quartz is mined at Cambria's proprietary Quartz quarry, technicians hand-sort the quartz based on quality to ground the pieces to be used for the slabs. The different size pieces of quartz are aggregated using Bretonstone technology, and a binder is added while the air is removed to press the slabs into their chosen sizes to create Cambria Quartz slabs.
Marble-Like Cambria Quartz Countertops
For marble countertops without the expensive price tag, Cambria quartz countertops can be used for an elegant finish that offers exceptional benefits and significantly less maintenance than natural stone. For the classic, white marble, flowing look, you may choose Brittanicca, Brittanicca Warm, or Brittanicca Gold Cambria Quartz Countertops, amongst many others, for the marble look without the drawbacks.
Skara Brae Quartz Countertops
For a warmer look that remains in the realm of a marble countertop appearance, many homeowners are drawn to Skara Brae Cambria Quartz. With bold, taupe-gray veining and beautiful dimension and depth, these countertops bring a unique flare to any space creating a bright focal point in your kitchen or bathroom with ease.
Torquay Quartz Countertops
A time-honored favorite for homeowners in search of a cost-effective alternative to white marble countertops, Torquay Cambria Quartz is a crisp, white, and light gray marbled solution that brings cool tones to your living space. With a gorgeous white base that attracts light and the feel of classic marble, this Torquay offers a traditional design that matches any home.
Hemsworth Quartz Countertops
Making its debut in 2021, Hemsworth Cambria Quartz combines the traditional appeal of marble with a modern, bold pop of black, crackling color for a vibrant spark that brings a dynamic energy to a home. The movement of the deep black veining on the seamless white base makes Hemsworth the optimal choice for those looking for a showstopping countertop.
Colton Quartz Countertops
For a discreet pop of color with a blue-gray and brown veining that runs through the marbling, you may be drawn to Colton Cambria Quartz, a beautiful, marbled design that brings a natural elegance with a subtle color that flows through the design.
Is Cambria Quartz or Quartzite?
Cambria Quartz is not quartzite. It is a quartz product. Quartzite is more like marble, and it is a natural stone that calls for more maintenance and upkeep to remain in optimal condition. While the names may be similar, the materials are very different.
Is Cambria Quartz Heat Resistant?
We recommend refraining from using trivets, even though Cambria Quartz countertops are durable and can withstand heat. It is still important to be precautionary and protect your investment by avoiding unnecessary heat exposure.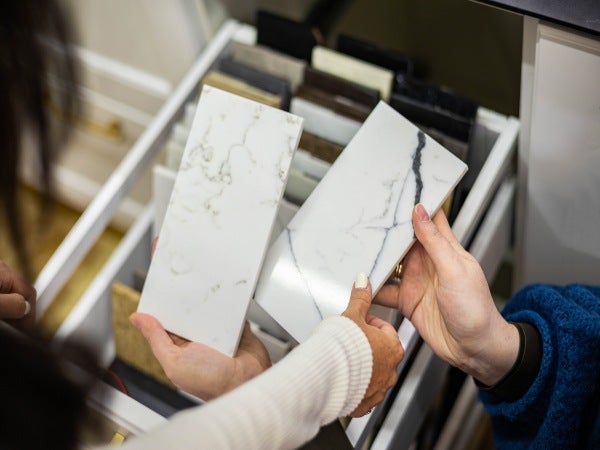 Contact Our Countertop Experts to Learn More
 If you like what you see and believe that Cambria Quartz countertops are the right choice for your home, The Countertop Company is here to make it happen with our expansive selection of premium Cambria Quartz products that complement any unique style and preference. Contact our countertop professionals today to learn more.