Looking for Bathroom or Kitchen Cabinets in San Diego?
The Countertop Company Has the Cabinets You Need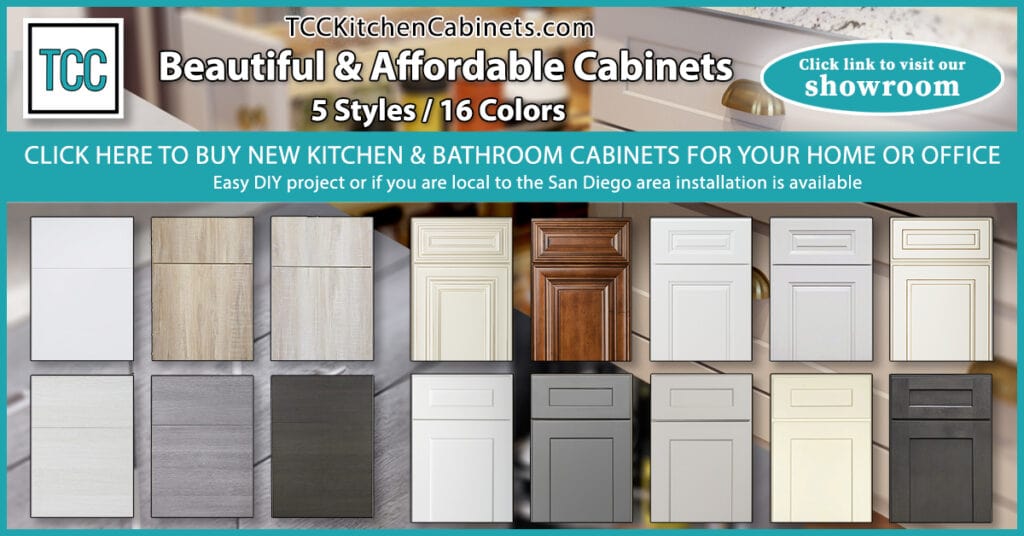 Purchase cabinets on our new Cabinet Showroom website: TCCKitchenCabinets.com
Is it time to give your kitchen or bathroom a makeover? Cabinets are an integral part of these spaces and several other areas of your home. Not only do cabinets offer a convenient storage solution, but they also add flair to your living space. At The Countertop Company, we provide framed and frameless cabinets constructed with top-notch materials to match any aesthetic. Although countertops are in our name, cabinets are also among our specialties. Our team is here to help you choose the ideal bathroom or kitchen cabinet, taking into account your style and needs. When homeowners in North County need new cabinets, they choose The Countertop Company.
Framed Vs. Frameless Cabinet Options
We are proud to offer both framed and frameless cabinet options. Those with experience in home improvement might know exactly what they want for their kitchen or bathroom, while others may not know where to start. Here's where our expert staff comes in. We can walk you through all your options, from framed Shaker cabinets to sleek frameless designs. Learn more about the perks of each of these cabinet options.
Framed kitchen cabinets are an excellent way to add some style to your space. At our showroom, you'll find cabinets in all shades and finishes. Our cabinets are fabricated from solid birch hardwood and furniture-grade plywood, so you can count on our quality. Plus, we only use materials compliant with the United States' standards for formaldehyde emission. When you select this line of cabinets, you can expect a long lifespan and unmatched durability. Our drawers can hold up to 88 pounds and come with a UV-coated natural interior. Other characteristics of the Framed Capital Collection include:
Drawer boxes made from 5/8" solid hardwood and 3/8" plywood
Interiors stained to match the exterior color
Soft-close doors
Fully-finished exteriors
Shop our framed kitchen cabinets now!
If framed cabinets aren't your style, browse our selection of frameless options. Our Frameless Global Collection is made from medium-density fiberboard, an incredibly durable engineered wood. We also use furniture-grade plywood to ensure your finished kitchen cabinets can stand up to years of use. Like our framed options, frameless cabinets also come with soft-close doors and have a capacity of 88 pounds. If you opt for drawer boxes greater than 30 inches, you'll enjoy a weight capacity of 166 pounds. You can also expect the following from our frameless cabinets:
All materials comply with standards for formaldehyde emissions
A premium metal drawer system
White with gray linen thermofused melamine interiors and the option to finish exposed ends with this material
Shop our frameless European Style cabinets now!
Are you interested in adding a cabinet hood to your kitchen? This stylish design element also makes for a convenient cooking experience. We provide cabinet hoods for all models in our framed collections, so you can reap their benefits no matter what design you choose. If you prefer a frameless look, you can still have a cabinet hood installed. However, you'll need to choose a color from our framed series. Whatever your needs, our experienced team will make sure you receive the ideal cabinets.
Peruse Our Products Beyond Cabinets
Beyond framed and frameless cabinets, we're also known for our countertops. If you're redesigning your whole kitchen or bathroom, you'll surely need brand-new countertops as well. You can rely on us for chic natural stone surfaces, rustic butcher block countertops, and much more. However, we also understand redesigning your space is no walk in the park. That's why we feature design tools such as the bathroom visualizers and kitchen visualizers. Using these tools, you can combine your favorite materials to get an idea of what your finished product could look like.
 Contact Our Friendly Team to Learn More
Regardless of your design preferences or space needs, The Countertop Company can help you select the perfect cabinets for your kitchen or bathroom. We're among North County's top choices for sleek framed and frameless cabinetry. With over 20 years of experience under our belt, we can walk you through all your options and even help you brainstorm design ideas. For more information on our framed and frameless cabinets, contact us today!