Bathroom Countertop Services in San Diego, CA
San Diego's Trusted Bathroom Countertop Installation
As part of one of the most frequented rooms in your home, the quality of your bathroom countertops matters. As such, the trusted experts at The Countertop Company in San Diego, CA offer unrivaled bathroom countertop installation and replacement services that add value, functionality, and aesthetic appeal to your home!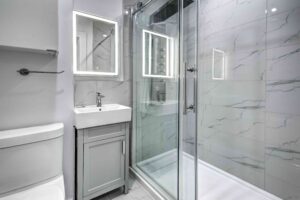 Exploring Bathroom Countertops
Each homeowner is unique, and as such, The Countertop Company offers an array of bathroom countertop options to satisfy every style, preference, and budget. From luxurious granite to durable quartz and beyond, our team of professionals is here to help you select the most suitable bathroom countertop for your new addition based on your unique needs.
Bathroom Countertop Material Selection
At The Countertop Company, we offer a range of materials when it comes to designing your bathroom countertop. Our options include:
Acrylic – Is a budget-friendly alternative to natural stone
Quartz – Offers extended durability and elegance
Soapstone – Is an environmentally-friendly, non-sealing choice
Natural Stone – Available in luxurious granite or marble
Bathroom Countertop Installation
Whether you're adding a new room to your home or building a new home, your bathroom countertop installation is a vital decision that requires the skill and know-how of industry-leading professionals, such as the experts at The Countertop Company. You can count on us for high-quality material and workmanship that exceeds industry standards.
Bathroom Countertop Replacement
If your bathroom countertop is outdated or damaged, it may be time for a bathroom countertop replacement service. Our experts will carefully remove your current countertop and offer you a wide selection of replacement options to breathe new life into your bathroom, leaving you with exceptional results that last for years to come.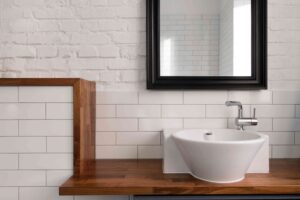 Bathroom Countertop Maintenance Tips
Once you've had a new bathroom countertop installation service performed by our experts at The Countertop Company, you will want to keep it looking as beautiful and clean as possible. That's why our experts have compiled a list of different materials and their unique maintenance demands to help you simplify your cleaning process:
Acrylic Bathroom Countertop Cleaning Tips – Acrylic bathroom countertops are easy to clean but are prone to scratches if you are not careful. To clean your acrylic countertops, use a soft cloth combined with a non-abrasive cleaner to gently wipe down the surface. Additionally, it's best to wipe up spills immediately to avoid stains.
Quartz Bathroom Countertop Cleaning Tips – Quartz holds the torch for its durability and stain resistance. However, to keep your quartz bathroom countertop looking fresh, we recommend a damp, soft cloth to rid the countertop of dirt and dust. For a more stuck-on mess, use mild dish soap with a soft-bristled brush to gently loosen the stubborn dirt.
Soapstone Bathroom Countertop Cleaning Tips – Soapstone bathroom countertops demand daily cleaning to prevent buildups, such as dirt, grime, or dust. Without proper cleaning practices, the color of the soapstone can change. Therefore, we recommend using traditional household cleaners mixed with water and a clean cloth to clean the area. Avoid powders and bristle pads as they can be damaging.
Natural Stone Bathroom Countertop Cleaning Tips – Natural stone bathroom countertops require special care. Start by wiping them down with a microfiber cloth to combat scratches followed by a pH-neutral cleaner to eliminate any stubborn dirt or grease. After cleaning, wipe down the granite or marble countertop with a soft cloth.
Contact Our Team for Unrivaled Bathroom Countertops Today!
If your bathroom is due for a makeover, The Countertop Company is here to make it happen! Rely on San Diego, CA's most trusted bathroom countertop replacement and installation providers for workmanship that looks incredible while withstanding the test of time. Contact us today to discuss your bathroom countertop needs.