Countertop Remnants in San Diego
When a natural stone slab is fabricated for a new kitchen countertop many times there are leftover pieces called remnants. Although their name may sound not so grand, countertop remnants are affordable and beautiful. These pieces offer depth, clarity, durability, and a great return on your investment. Not to mention, The Countertop Company of San Diego has hundreds of granite and quartz remnants to choose from, just perfect for your smaller projects. Who knows? You might just get lucky and find some exotic granite or a piece of soapstone. Give us a call and one our experts can help you locate the perfect piece. You can visit our other website to see pictures and sizes of the remnants we have available. www.tccslabyard.com Contact us today or get directions to our showroom.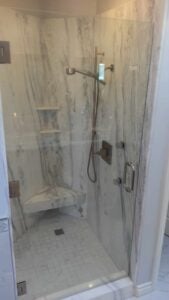 Quartz Remnants
Quartz countertops are one of the most popular types of countertops and are 93% quartz and 7% resin. They are extremely easy to take care of and are twice as strong as granite — quartz does not develop fissures or cracks. If you're in the market for certain colors, quartz is a good choice since they have much more color options than natural stone does. Should you have a small project that requires quarts, we have many beautiful quartz remnants for you to choose from. We also have full size quartz countertops for larger jobs.
Granite Remnants
Granite is also a popular choice for countertops since they are one of the most durable natural stone surfaces available. Because they are made of natural rock, each granite countertop is unique and beautiful in its own special way. You'll enjoy amazing and natural color variations, tone, granularity, and pattern, which means your granite countertop will never look like anyone else's, guaranteed. Get both granite remnants and granite countertops from The Countertop Company in San Diego.
Butcherblock
If stones don't appeal to you much, you may be considering wood as an accent for your kitchen instead. One style that many people enjoy is butcherblock, which looks exactly how it sounds. Butcherblock countertops can be made from different types of wood, and we are able to construct full butcherblock countertops for you, no problem. Should you need butcherblock remnants to accent other parts of your kitchen or for smaller type jobs, we have plenty of those in stock for you as well.
Acrylic
If you don't want to spend money on real quartz, granite, marble, or stainless steel, you'll be glad to know that you have the option of acrylic products. Acrylic products can be made to look like any of the above, but at a cheaper cost. Acrylic countertops are also low-maintenance, which means you don't have to do much to ensure that it remains beautiful. Should there be cuts or scrapes, you can easily remove them by using soap or water, or by sanding and buffing it. Get in touch with us today if you would like to get acrylic or other types of remnants from The Countertop Company.
Contact us ,come by, or click here to see what remnants we have available for you.