Quality Soapstone Countertops
High-End Soapstone Countertops in San Diego, CA
Wondering where to buy soapstone countertops? Well, you've come to the right place. The Countertop Company (TCC) has helped hundreds of San Diego, CA residents install soapstone countertops in their homes. When you Google "soapstone countertops near me," there's only one search result that will provide you will the best results, and that's TCC. As your local countertop expert, we'll help you bring your kitchen or bathroom to the next level with soapstone countertops. For more than 20 years, our family-owned and -operated company has delivered exquisite countertops to homeowners throughout the region, so you can rest assured that we're the ones for the job.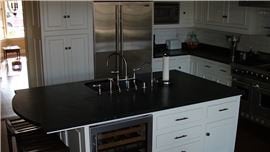 What Is Soapstone?
Soapstone is a widely-used, well-known material for people living on the east coast. Many homes there have soapstone countertops that have been in their kitchen for over 100 years. Here on the west coast, many people don't know much about soapstone and how great of a product it is. Soapstone is a metamorphic rock consisting of talc, steatite, magnesite, quartz, and other magnesium-rich minerals. It is quarried like granite and marble. The talc found in soapstone is soft to the touch, which gives the smooth feeling of rubbing a piece of dry soap. Thus, the name soapstone was derived.
The Types Of Soapstone We Provide
We only use Grade A soapstone, which is the hardest and the best quality soapstone available. Whatever type of soapstone you're looking for, we can accommodate it. If we don't have that particular type of soapstone in our warehouse, we will be happy to order some for you. Below, we've listed some of the more popular soapstone countertops we offer at The Countertop Company:
White Soapstone Countertops
Black Soapstone Countertops
Grey Soapstone Countertops
Soapstone Quartz Countertops
Why Choose Soapstone For Your Countertops?
There are numerous reasons why soapstone is one of the best options for your kitchen or bathroom countertops. When weighing out soapstone countertops' pros and cons, it's evident that this countertop type has many more pros than cons. Soapstone is a beautiful, natural stone that is durable and easy to clean – all of which are desirable qualities in countertops. With its soft touch and matte finish, soapstone appeals to homeowners who want to add warmth and approachability to their homes. The workability and hardiness of soapstone make it perfect for kitchen countertops.
Where Can Soapstone Be Used?
As an extremely versatile material, soapstone can be used in a wide range of ways. From countertops to sinks and fireplaces, soapstone is ideal for any home. High degrees of heat will not harm the stone, which means it can be used in various heat applications, including fireplaces, stoves, and heaters. Unparalleled heat retention improves fireplace efficiency and slowly radiates the heat for hours. Below, are some ways soapstone can be used:
Soapstone Countertops
Soapstone Sinks
Soapstone Fireplaces
Soapstone Backsplashes
Soapstone Flooring
Commercial Applications
Contact Us Today For Soapstone Countertops
Soapstone is the only natural stone that is non-porous. This means that you can put raw foods on the countertop without worrying about bacteria growth. Soapstone, unlike marble and granite, never needs sealing. If you're interested in soapstone countertop installation services or soapstone countertop care, The Countertop Company in San Diego, CA can help. Contact us today to learn more.