Avoiding DIY Wood Countertop Mistakes in San Diego, CA
DIY Wood Countertop Mistakes to Avoid
When you're considering DIY wood countertops for your San Diego, CA home, it's important to be aware of the common mistakes many homeowners face when taking on the installation process on their own. Learning about these mistakes before getting started can help you plan accordingly to avoid these mistakes during your project. Fortunately, the countertop experts at The Countertop Company are here to guide you and help ensure success!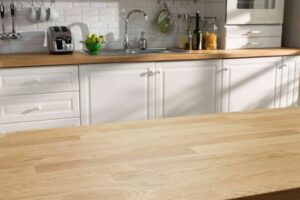 Understanding Wood Countertops
Wood countertops are typically fabricated using several wood planks fastened together, which are referred to as butcher block wood countertops. They can be made from several types of wood to achieve specific style preferences and different finishes can be used to satisfy an array of needs, whether it's used as a cutting surface or furniture style top.
The Advantages of Wood Countertops
Wood countertops are not only aesthetically pleasing, but they also offer several other leading benefits, including:
They are most cost-effective than other options, especially DIY wood countertops.
They can be a relatively simple DIY project.
They absorb sound and dampen noise.
They can be fixed or restored more efficiently than other materials.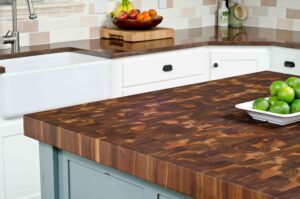 The Disadvantages of Wood Countertops
Just like any material, wood countertops come with their own set of drawbacks that may make them less appealing to certain homeowners. These disadvantages include:
Unlike other materials, they are flammable.
They require more maintenance to avoid cracks, stains, or deterioration.
They are prone to warping.
Common Mistakes When Installing DIY Wood Countertops
When installed correctly, DIY wood countertops can be an exceptional addition, offering a warm and welcoming finish that adds aesthetic value to any space. However, minor mistakes can quickly de-rail your project, which is why our experts are here to highlight the common mistakes so you can avoid them! Some of the most common mistakes homeowners make when it comes to DIY wood countertops include:
Sealing the Wood Countertop Improperly – Many people who decide to partake in DIY wood countertop installation fail to realize the importance of sealing the bottom of the countertop. While sealing the top is a commonly known fact, sealing the bottom is imperative as the wood needs to be able to breathe from both sides to avoid cracking and curling.
Not Planning for Sufficient Expansion Space – Expansion space is a non-negotiable factor when installing DIY wood countertops, as wood naturally expands and contracts. Without proper expansion space, the wood will be prone to cracking. To avoid this unfavorable outcome, drill holes in the frame of the cabinet that supersede the screw size to offer additional space for the wood to expand.
Procrastinating on the Job – When the wood arrives, you may have the energy to get started – quickly followed by a period of procrastination before you finish the project. However, this can lead to warping that cannot be corrected, which will prohibit areas of your counter from uniting properly. You can avoid this by getting the DIY wood countertops completed promptly.
Not Reading the Directions – While this may seem like common sense, it's essential to thoroughly read the directions to understand the product and the way in which it's intended to be used to avoid misconduct while installing your wood countertops. This simple, yet effective strategy can save you time, money, and a great deal of frustration.
Rely on the Professionals for Exceptional Wood Countertops!
If the time has come to redesign your living space and install new countertops, San Diego's leading wood countertop professionals are here to assist you! We can eliminate the guesswork from your DIY wood countertop job and provide you with exceptional results. Contact us today to schedule a consultation with our experts.
""