Hanstone Countertops in San Diego, CA
Premium HanStone Countertops
When choosing the perfect countertops, it's important to consider all that is available to you. While granite has long been deemed the elite choice, in recent years, Quartz has taken the home design world by storm, offering unparalleled durability and strength with endless design options. That's why the Countertop Company is here to offer you the leading Canadian Quartz countertop material, HanStone Quartz countertops, in San Diego, CA.
Why Choose HanStone Quartz Countertops?
When you want beautiful countertops without the expensive price tag or particular maintenance demands of granite or marble, HanStone Quartz is the perfect solution. These Canadian-made quartz countertops offer abundant benefits and come in various colors to suit your home's unique style and character, providing a value-added remodel solution.
Enhanced Durability With Quartz Countertops
HanStone Quartz provides enhanced durability that exceeds that of alternative natural materials. When you choose HanStone, you do not have to worry about your investment succumbing to premature deterioration or signs of wear from daily use. Some of the benefits of HanStone's durability include:
Heat-resistant
Stain-resistant
Scratch-resistant
Etch-resistant
Non-porous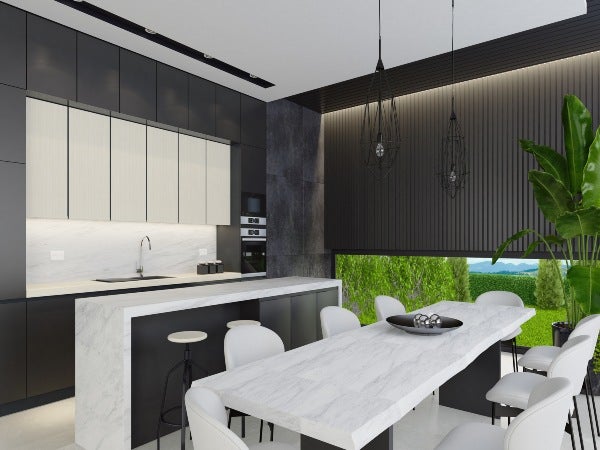 Easy Maintenance With Quartz Countertops
HanStone Quartz offers extended strength and is a non-porous material that makes maintenance a breeze. As such, with adequate care and following simple guidelines, your HanStone countertops will remain in impeccable condition for years to come, allowing you to say goodbye to stuck-on stains, tough spills, and sticky messes that cause eyesores and frustration.
Caring for Your HanStone Quartz
Soap and water or rubbing alcohol mixed with water used with a non-abrasive microfiber cloth is enough to wipe away any mess that plagues your HanStone Quartz countertop. We recommend doing a quick wipe down of your countertop once daily to maintain the beautiful appearance of your HanStone, and remember to avoid using scotch pads or magic erasers when cleaning.
Eco-Friendly Countertop Solution
Not only is HanStone Quartz beautiful, durable, and low maintenance, but it is also eco-friendly, offering a countertop solution that you can feel good about. As quartz is one of the earth's more common minerals, accounting for 12% of the earth's crust volume, Quartz is the 4th hardest Crystalline mineral available, making HanStone a natural, feel-good choice for your home.
Versatile Designs for Your Home
No two homes are the same, so HanStone Quartz is available in light and dark colors to accommodate our customers' varying needs and preferences. Whether looking for a dark HanStone quartz countertop to complement your bright kitchen or a light countertop to reflect natural light into your dim bathroom, The Countertop Company has what you need.
Quartz vs. Granite Countertops
 When contemplating between quartz and granite, it's important to consider the following factors:
Granite is porous
Quartz offers greater durability
Quartz is more consistent in appearance
Quartz is eco-friendly
Granite is more expensive
Granite requires more maintenance and precautions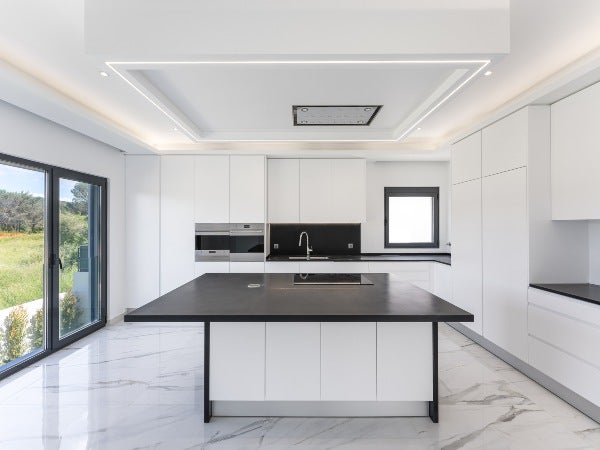 Choose The Countertop Company
With over two decades of experience as industry leaders in countertop installation and design, The Countertop Company is your trusted provider of high-quality countertops that enhance your home's function and aesthetic value. With a commitment to customer satisfaction and a dedication to the best materials and practices, choose our professionals for impeccable countertop services.
Let's Discuss Your HanStone Countertops
If you're ready to reap the benefits of beautiful HanStone Quartz countertops that bring value and character to your home while providing you with a wealth of unrivaled benefits, The Countertop Company is here to make it happen. Contact us today to learn more about our expansive selection of HanStone Quartz countertop designs.