Rta Cabinet Services in San Diego, CA
Professional Cabinet Services From the Countertop Company 
Spruce up your San Diego home in an elegant, cost-effective way by allowing our expert contractors to install your ready-to-assemble (RTA) cabinets. We can replace old cabinets, drawer fronts, panels, hinges, and moldings with high-quality alternatives. We have a wide range of designs, materials, and color options to choose from to satisfy your unique style.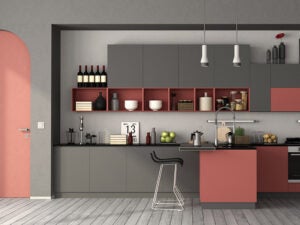 Your Rta Cabinet Contractor
With over 20 years of experience, our professional kitchen RTA cabinet contractors know how to bring vibrance, practicality, and satisfaction to your home for an affordable price. We strive to ensure all our customers feel satisfied and proud of our results, which is why our hands-on services work alongside homeowners to ensure we accurately bring their cabinet wishes to life.
The Benefits of Rta Cabinets
RTA cabinets offer a cost-effective solution for homeowners looking to update their kitchen or bathroom. They are more affordable than pre-assembled cabinets, and they give you the freedom to customize your space to fit your specific needs and preferences. Additionally, RTA cabinets are made of high-quality materials and are eco-friendly, requiring less energy to produce and ship, reducing the overall carbon footprint.
Framed Rta Cabinets
Whether you're interested in efficient use of space or a new fresh look for your kitchen, our professionals have you covered with our framed Highland Series. These framed cabinets offer timeless door styles and finishes.
From stains to paints and modern to traditional profiles, there are options to suit any unique aesthetic. With premium features, including soft-close hinges and dovetailed drawer boxes, no compromises are needed to get high-end quality from an RTA cabinet.
Frameless Rta Cabinets
If you're looking for a sleek, modern design, our frameless RTA cabinets are for you. Our Altaeuro line of full access/frameless cabinetry accomplishes an upgraded look and feel with its luxury boxes, Altamax drawer system, and Hettich soft close hinges.
Taking advantage of the full-access design of this collection, this series offers many accessories and items for increased space efficiency and customization, such as spice pullouts, inner drawers, and brushed aluminum toe kicks.
Kitchen & Bathroom Cabinets
Our RTA cabinets cater to you, as you get to decide on all the features of your new cabinets. All specifications are left up to you, from storage space, style, accessories, and material. Our framed and frameless cabinets are durable, stylish, and a value-adding addition to your home. You decide what your vision is, and our professionals will handle the rest!
Use Our Design Expertise to Enhance Your Home
Our professionals will weigh your cabinet requirements and preferences to narrow in on the most suitable options for your kitchen or bathroom to help you decide on your perfect cabinet style. Our experts are well-versed in style, texture, material, and other details, ensuring your cabinets exceed your expectations.
Take Advantage of Our Convenient Online Design Tool
We have online design tools to help you visualize your home remodel projects. Rather than blindly buying materials and hoping they look nice, use our comprehensive kitchen and bathroom visualizer tools to get a real-life look at how certain materials and colors will suit your home.
Choose the Countertop Company for Your Cabinets
The Countertop Company has serviced Southern California with exceptional craftsmanship, unrivaled installation, and attentive customer service for over 20 years. Our friendly sales team is here to guide you through the inspiration process, helping you pick the best cabinets for your home. Our detail-oriented installation experts will bring that vision to life quickly and efficiently, leaving you with unmatched results.
Contact the Countertop Company
When you're ready to amplify your kitchen or bathroom with pristine RTA framed or frameless cabinets, The Countertop Company is here to accommodate you! Contact our friendly team today to discuss how we can enhance your home for a fraction of the price of our competitors!